His Holiness Maharishi Mahesh Yogi Ji has reminded us thousands of time that "Life is Bliss, not for struggle, not for suffering". Maharishi Ji has gifted the world not only with a theoretical understanding of Vedic Science but also gave us several Vedic Technologies to live life in bliss, perfect health, peace, prosperity, harmony, enlightenment and invincibility.
Beside bringing Maharishi Ji's total knowledge to masses around the world, we were planning to have a place where single ladies from all over the world can come together in large number and feel the taste of blissful life, life in totality, holistic life. Finally, we found a suitable place and built a beautiful campus in Bhopal– the city of lakes– Capital of Madhya Pradesh.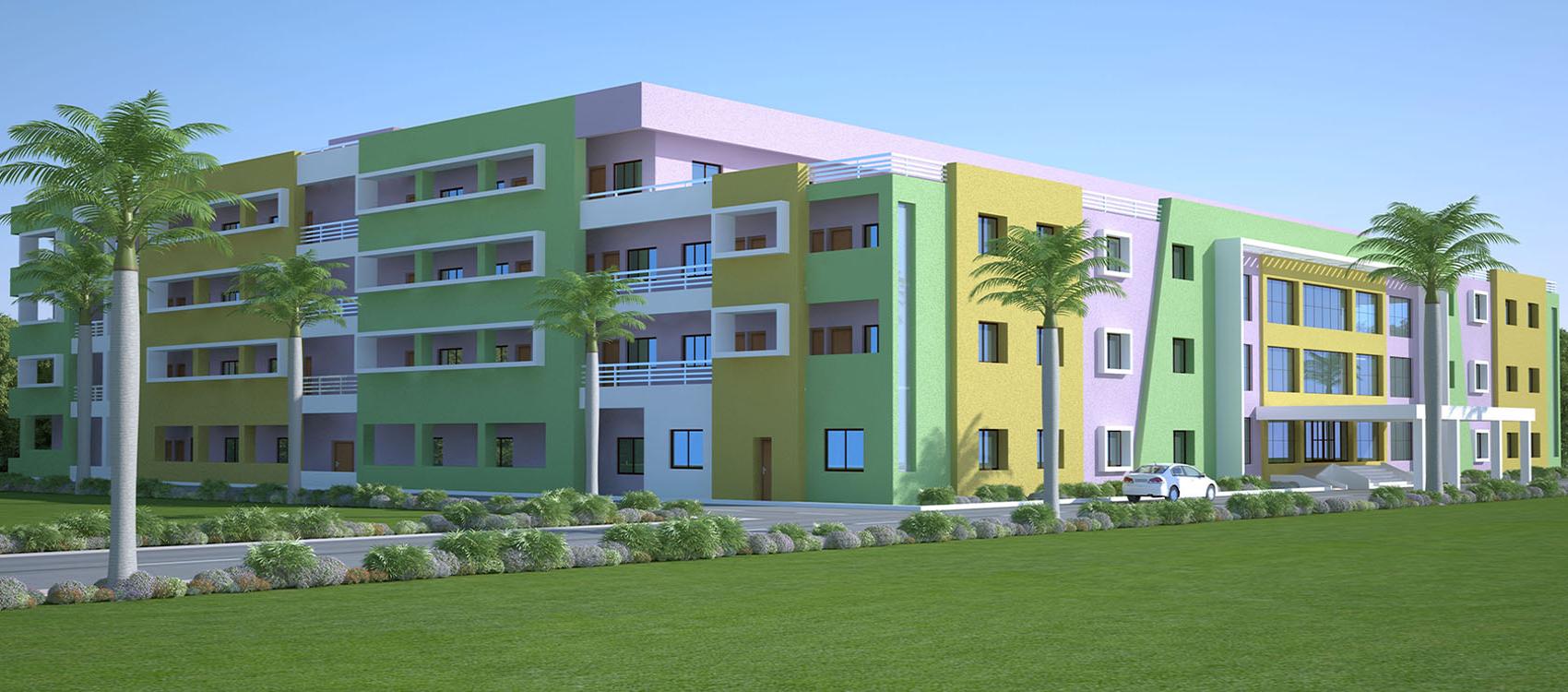 Maharishi Anand Niketan-Maharishi Bliss Residency is ready for all who want to enjoy holistic life in comfort, care, happiness and peace. Maharishi Anand Niketan is ideal for long term women senior living with 24 hours homelike care and attention, restful activities for young women executives, spiritual attainment and enlightenment seeking corporate women leaders. Women from different walks of life and age group can stay at MBR and enjoy their life in the best possible environment.
VISION, MISSION & VALUES
OUR VISION

To create the most respected and preferred community lifestyle solutions for women citizens of our world family.

OUR MISSION

To provide the best-in-class care, comfort and security through a plush community lifestyle to women of all walks of life and age group who are most precious members of our society.

OUR VALUES

Our Indian core and life supporting value system with dedicated work ethics are instrumental in making Maharishi Bliss Residency a cut above the rest.
FOLLOWING VALUES DEFINE OUR WORK STANDARDS :
Care:

Caring is an inherent part of Maharishi Organisation's culture and therefore we put maximum attention on care of our young and silver generation above everything else.

Transparency:

We are completely transparent in the way we run the community and encourage our residents to monitor and guide us always.

Professionalism:

We bring in the best processes and people to manage and run each community to ensure a comfortable, secure, active and independent lifestyle for all residents.
SENIOR CITIZEN'S JOURNEY OF LIFE
We start our life from the role of a child, for an onward journey of sibling, friend, spouse, parent & a grandparent.
While passing through these roles of life we are often lost, fulfilling family commitments and hardly get time to think about ourselves.
There comes a time in our life, when all of sudden we realize that we might become dependent on our children & grand children!
Some time we even feel embarrassed asking them for their help! Isn't it?
Often we get nervous at this age with a fear at the back of our mind that who will take care of us?
This is the time when even money doesn't help, you really need someone's personal care.
Whole of your life you have spent helping everyone and have lived a dignified life in society and you do not want to look down! Isn't it?
How would you respond, if this OLD AGE becomes a "Magical Chapter" of your life?
This very idea, that you can live for yourself that too independent, gives you immense happiness and illuminates your soul from within.
GROWING PROBLEM OF SENIORS IN INDIA
324 MILLION Estimated number of Indians above 60 in 2016; life spans are increasing, facilities are not.
38 PERCENTAGE Estimated number of joint families currently; a diminishing support system for seniors.
67 PERCENTAGE The number of seniors who are fully dependent on others for the simplest requirements.



Sources: Economic Times, worldbank.org, Ministry of Statistics and Programme Implementation.

It is to be noted that figures globally are worse.
PREVENTION IS BETTER THAN CURE
हेयं दुःखं अनागतम
(Avert the danger that has not yet come)
Before it is too late …
Family starts feeling that you are too old for socialization and family leave you back home as care taker.
Before you start feeling, you are becoming a liability on your children.
Due to your bad health doctor restricts you for movements.
You yourself lose hope... and find it's too late.
A final question arises, how would you like to spend rest of your life.
Weak, dependent, confined to bed, or hale and hearty?
If the answer is hale and hearty then Thousand Headed Mother Divine- Sahasrasheersha Devi Mandal at Maharishi Bliss Residency– Maharishi Anand Niketan is the best destination for you.
WHY WE WANT YOU TO BE WITH US!
It's an important question, why should you come to us? There can be many reasons like:
You are living alone as your children have settled abroad or live in other town.
Though you are living in joint family but your children are too busy managing their own lives and despite their love for you they aren't able to give you desired time and attention.
You are confined only to home and feel boredom. Apart from that you are losing health due to lack of movement/activities.
You are living alone having lost your life partner and life is becoming meaningless for you.
You are staying in a polluted city and pollution is playing havoc with your health.
You are a fitness freak and want to live an independent life without too much interference by your family.
You want to open a real Magical Chapter of your life with the consent of your children or other family members who too are interested in your well-being and may agree to send you to THMD (SDM) programme at MBR but may hesitate to say so.
WHY MAHARISHI BLISS RESIDENCY
Bliss Residency, a luxurious residential place for young and senior women living, where you are bound to notice something wonderful: Every resident is relaxed and easy-going life about them. That is the beauty of a life at Maharishi Bliss Residency. A resort-like hospitality in the luxury of your living space and conveniences a push of a button away to keep you comfortable, always. Not to mention the like-minded individuals you can make friends with. Who says you can't be Super at Sixty?
We at Bliss Residency are thoroughly focused on creating such an elder-centric ecosystem, with passionate people, robust processes, and intuitive technology to help us deliver bespoke services and conveniences to seniors.
The Panchakarma healing therapy is available to detoxify the physiology, successfully prevent and eliminate disease caused by toxic elements.
"Transcendental Meditation (Bhawateet Dhyan)" the greatest gift of His Holiness Maharishi Mahesh Yogi to this world is a simple, natural and effortless technique for detaching oneself from stress, anxiety and promoting harmony and attaining higher states of consciousness. Regular twice daily practicing and it's advance programmes give contentment to soul and ultimately transforms your life to new enlightened birth. Maharishi Bliss Residency offers a comfortable and joyful lifestyle to aging elders through a plush, secure and rejuvenating environment.
Every aspect of Maharishi Bliss Residency has been designed for the comfort of our residents, an ambience that their soul yearns for and reconnects with truest themselves so that they can lead a happy life full of contentment.